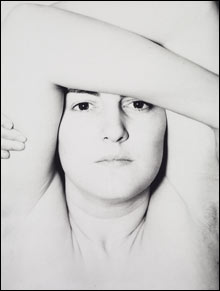 "Harry Callahan was one of the most innovative photographers working in America in the mid-twentieth century. Images of his wife, Eleanor; passers-by on the street; cityscapes; landscapes; close-ups from nature; multiple exposures; and darkroom abstractions reveal the elegantly spare formalism and lyricism of his style. Callahan's wide-ranging and experimental approach to photography influenced a generation of American photographers, including students at Chicago's Institute of Design where he taught from 1945-61, and at the Rhode Island School of Design where he taught in the 1960s and 1970s. "Harry Callahan: American Photographer" features black-and-white and color photographs that survey major aspects of his remarkable career."
Approximately 40 photographs which give a pretty good representation of his career especially for someone unfamiliar with his work. The scale of the exhibit makes it very easy to spend a lot of time with individual works. His portraits of his wife Eleanor, daughter Barbara, his experimental multiple exposure, high contrast, image juxtaposition as well as his brand of street photography are all represented by magnificent examples.
The new Herb Ritts Gallery is the perfect setting for this size exhibit and it's a wonderful introduction to the work of one of America's masters of fine art photography.